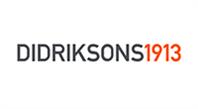 At Didriksons we have a simple philosophy: we don't challenge the elements, we adapt to them. Just like Julius and Hanna Didrikson did in 1913 when they began producing workwear for the fishermen in Grundsund, on the edge of Sweden's western coast. For over a hundred years we have been faithful to our basic principles. Making functional clothing that keeps you dry and comfortable regardless of the weather. Perhaps that's why we are still, a hundred years later, Scandinavia's biggest brand of rainwear and functional garments.
Didriksons started as a family business, and we often say that we are still like one. Our clothes are made for the whole family. Our customers are from one to one hundred years old. Everyone needs functional garments that work all day, every day, whether it rains or not. Clothing with a timeless, classic design that works over the long term.
Our world is different today from when Julius and Hanna started Didriksons. That means that we have to look after it better. We work constantly to reduce our environmental impact, and leave as small a footprint as possible behind us. We minimize the use of chemicals, say no to toxic substances, and use as little water, energy and transport as we can in our production. This is an endeavour that will never end, but we do it for the sake of the world we'll be leaving to our children.
Have you decided on a Didriksons garment? You'll be glad to know that we have put all our knowledge – we have sewn in all the years of experience, and woven in a century of product development – into every one of our garments. Because we want you to be able to do exactly what you want, when you want, and still be dry, happy and feeling good.