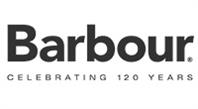 Barbour er et britisk brand, synonymt med kvalitet, holdbarhed og en tidløs stil med udpræget britisk attitude. De er især kendt for deres ikoniske læderjakker.
Barbour is a 120 year-old global brand with a distinct British attitude – synonymous with quality, durability and timeless style, anchored by the iconic wax jacket. A leading pioneer, Barbour offers versatile clothing for men, women and children in four unique collections; heritage, classic, contemporary and sporting.
Since launching in 1894, Barbour has defined the essence of a true British brand becoming a major style authority appealing to both country lovers to fashion forward shoppers and industry insiders alike.
An authentic and quintessential brand, Barbour provides a wardrobe of clothes for country living and the fashion savvy, whilst remaining true to its roots, heritage and original values.
Designed for layering for fresh and functional outfits Barbour offers the ultimate garments for the Great British weather whilst continuing to make its mark on the international style map.